Everyone knows that feeling of seeing the waiter coming to your table with your piping hot food: your mouth starts to water, you well up with excitement, and hope the waiter doesn't pass you and drop it off at the next table over. Well, you might not get that excited about a meal, but there's something special about the experience of dining out and being hand-delivered your favorite dish.
But, consumer trends are changing, and customers are seeking in-home dining "experiences".
When you think of food being delivered, you might think of a high school kid with a greasy pizza box, or a sad brown bag with a stapled receipt. You're not entirely wrong, but as online ordering becomes more popular, the demand for better packaging, better presentation can lead a customer to reorder from your restaurant or veer far, far away.
The millennial generation is the #1 buyer for food delivery today and 74% of these consumers are willing to spend more on experiences over products, according to Forbes. The same goes for food. What can we say, we want to post about it on Instagram (which is also a great way to organically market your restaurant).
The millennial generation is the #1 buyer for food delivery today!
So how do you stand out on these third party marketplaces, and keep customers coming back, beyond great menu items? Here are a couple tips to get out in front of your digital customers:
Packaging:

Your chance at a good first impression comes from the outside with great packaging. This doesn't mean you have to ship your food in a gold-gilded box, but including a logo on the outside gives credibility and assures the customer they're receiving the correct order. Security is simple, and taking steps to prevent tampering (tying a bag tight, stapling the paper bag, or adding a branded sticker seal) can give customers ease of mind. Consider sustainable packaging options to appeal to eco-conscious customers who may be wary of styrofoam or plastics.
Remember: your food is a gift, and should be presented that way. Excite your customers by giving them the chance to unwrap their meal.
Consistent Meal Packaging
When packaging your meals, consider the "bento" style, a popular Japanese box with compartments for different types of side dishes and mains. You don't need to "bento" your burgers, but having similarly-colored boxes, with different sizes for sides and add ons can create a sense of unity in each delivery package, which makes the unboxing simple for customers and can be aesthetically pleasing (it's all about aesthetic with that millennial market). Indicate each box with a clear, distinct label, so customers don't need to open each box to know which box is theirs. Consider this: if you have staple menu items that are ordered frequently, purchase branded labels for these menu items, to further spruce up the design and provide increased organization. This can also help simplify the packaging process for staff, to ensure they've loaded up each menu item, reducing order errors.
Utensils/Napkins
Providing utensils can be a double edge sword: some customers want the ability to open a to-go bag and dig right in. Some customers may be upset with the "waste" if they have their own reusable silverware at home. A simple way to prevent this is adding the option for silverware directly on the online ordering platform as a "free add-on", giving them more control, and potentially saving you money on unneeded disposable utensils. When in doubt, provide utensils to ensure customers have a way to devour! Always include extra napkins, and consider putting a set of utensils with each to-go box on the top with a rubber band, so they are front and center and don't leave customers digging to the bottom of the bag.
Marketing Inserts – Coupons for In-store, Direct to Website

Once a customer has placed an online order to your store, you'll show up in the "reorder" section of their app, which gives you an easy way to keep customers coming back. Another way to drive customers through your doors, or place another order, is to provide some marketing content directly in their bag. Try adding in-store coupons, a fun sticker or magnet, or even a promotion to your restaurant's website to keep your restaurant name at the top of their list. Something memorable in your delivery packaging is quick to ensure customers stay satisfied and can help you drive more in-store diners. If you're using social media (like Instagram), providing an easy way to find you online through a QR code can build your social following. Want to take it up a notch? Try adding something they can pose with in pictures, like a see-through frame to take pictures through and a hashtag border!
Great Food Pictures
Online ordering means customers are ordering with their eyes, and pictures are the easiest way to grab the attention of someone mindlessly scrolling through an app. Some third party marketplaces offer photography for free, or for a small fee, but they will typically own the rights to these photos. If you want to repurpose your food photography, hire a photographer, cook up some great dishes, and share those pictures across all your social media sites! When preparing for a food-shoot, make sure every dish looks delicious (thoroughly melt the cheese, show all toppings, don't distract with a busy background) and provide an easy way to identify the size of each item with a reference item. Photographs are the main reason that a customer will stop and check out an online menu, so make sure yours stand out & WOW!
Encourage Customers to "Leave a Review"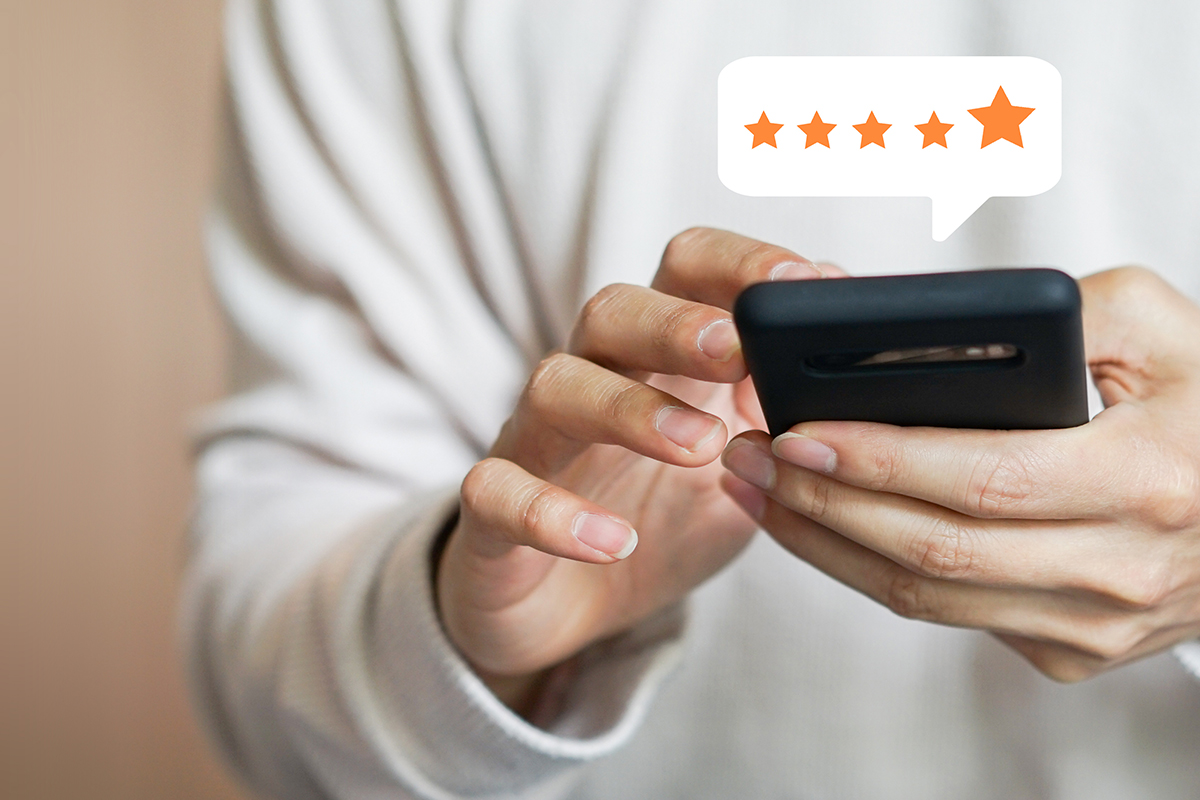 Restaurants that have many reviews, and a high star-average, are often pushed to the top of each ordering app. While the app may send a "push-notification" to the user who placed an order, they may choose to ignore or miss it all together. Consider giving customers an easy way to go leave you a review, with a simple card insert in the bag with a link to Google, Yelp, or any of your online ordering platforms. To encourage more reviews, consider offering an in-store coupon to those who fill out a 5 star review on your social platforms. This will help drive more customers through your doors, and will help increase your ratings online.
As online ordering continues to grow, it's important to make your online ordering business stand out in as many ways as possible. Was this article helpful? Subscribe to our newsletter for more helpful tips & tricks on growing your revenue!
You can also download your free copy of our latest ebook: The Ultimate Guide to Doing Online Ordering Right!
And if you're looking for a simple way to manage your orders with a single printer & tablet, come join the thousands of restaurants that trust Ordermark to simplify & grow.
Join the thousands of restaurants already using Ordermark to simplify online ordering and grow their profits.
Get Started Now