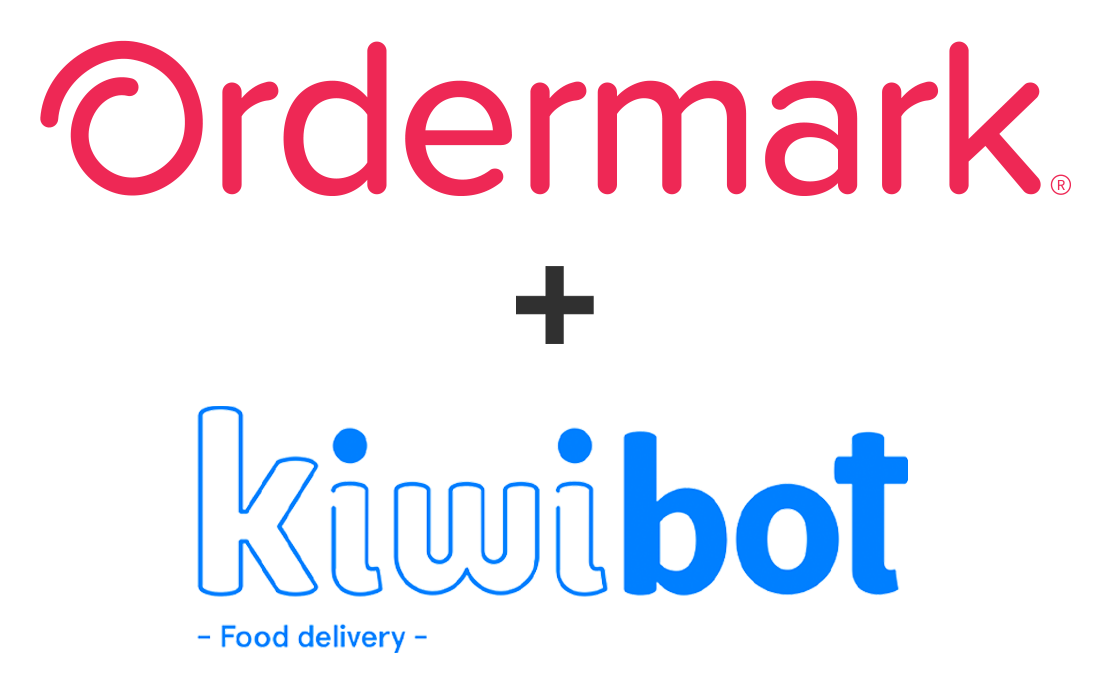 Ordermark Partners with Kiwi Campus to Connect Restaurant Online Delivery Business to Campus Delivery Robots
Agreement Provides Kiwi Campus' State-of-the-Art Autonomous On-Demand Everything Robot Delivery Solution with Ordermark's Fast-Growing Restaurant Customer Base
LOS ANGELES, CALIF. – September 10, 2019 — Ordermark, the leading mobile-order technology service provider for restaurants through a dedicated single-source dashboard and printer solution, today announced an expanded partnership with autonomous delivery service pioneer, Kiwi Campus. The agreement gives Kiwi Campus access to Ordermark's growing portfolio of restaurant clients, while Ordermark expands its working relationship with the popular robot delivery service targeting millennials on college campuses, 57% of whom order restaurant delivery services at least twice per week.
Launched in Berkeley, in 2017, the Kiwi Campus ("Kiwi") restaurant on-demand everything delivery solution sends autonomous "Kiwibots" to its customers' doorsteps with a fast, reliable, and low-cost solution ensuring the freshest food and a satisfying delivery experience. Using Kiwi's advanced autonomous technology, Kiwi guarantees a safe delivery approximately 65% faster than traditional couriers. Often found roaming the residence halls of UC Berkeley, Kiwi's prices its groundbreaking, state-of-the-art delivery service at an affordable delivery cost that is often significantly less than competing providers.
"Ordermark restaurant clients are looking to be on every possible delivery app or service in this fast-growing marketplace. Thanks to our expanded partnership with Kiwi, an industry pioneer, Ordermark is able to bring the cost of last-mile delivery down to record lows," said Alex Canter, CEO of Ordermark. "Expanding Ordermark's business with Kiwi will help us grow together as Kiwi expands its geographic footprint and with delivery costs that have never been achievable with human labor. "Partnering with Kiwi fortifies Ordermark's client portfolio and helps restaurants incrementally grow revenues and their bottom line with the highly desirable and lucrative college student market segment."
"Ordermark is the future of restaurant merchant integration into the digital economy," said Felipe Chavez Cortes, Kiwi Campus CEO. "In just two years, Kiwi has filled more than 50,000 orders — including more than 30% with Ordermark – reducing delivery times by an average of five minutes and improving the user experience and overall customer satisfaction," he added. "Kiwi is expanding out of its Berkeley base of 18 Ordermark restaurants and across the Bay Area and into Northern California with its forthcoming Palo Alto/Stanford and Sacramento launches. Expanding Kiwi's working relationship with Alex and his team is key to staying ahead of the market with Ordermark's best in-class technology solution for restaurateurs and capitalizing on a period of tremendous growth and opportunity in the restaurant delivery sector."
About Ordermark
Ordermark (ordermark.com) is the leading and one of the fastest-growing restaurant technology service providers in the mobile technology space. Ordermark helps restaurants increase efficiency and grow profits by aggregating mobile orders across all of the major online ordering service providers into a single dashboard and printer.
Born in the kitchen of the world-famous Canter's Deli in Los Angeles by a fourth-generation restaurateur, Ordermark helps thousands of brands nationwide, including many of the world's top restaurant chains including Buffalo Wild Wings, Cold Stone Creamery, Little Caesars, Papa Johns, Sonic, Which Wich, and Yogurtland. The company is headquartered in Los Angeles, California, with offices in Denver.
About KiwiCampus
Kiwi is building the largest robotic infrastructure in world, reimagining how robots mesh within the fabric of our society. Kiwibots help people get food delivered cheaper and faster than ever before, empowering communities to eat healthier and more affordably. For more information visit kiwicampus.com.
If you have a speaking inquiry or are a member of the media and would like to chat, please contact us at

[email protected]

.
Learn how to grow your restaurant and thrive with online ordering.
Join thousands of peers already getting valuable tips and insights sent to their inbox.