4th Generation Canter's Deli family members, Gina and Alex Canter Publish "Stories on Rye: A Collection of Memories Shared at Canter's Deli Since 1931"
LOS ANGELES, CALIF. – September 30, 2019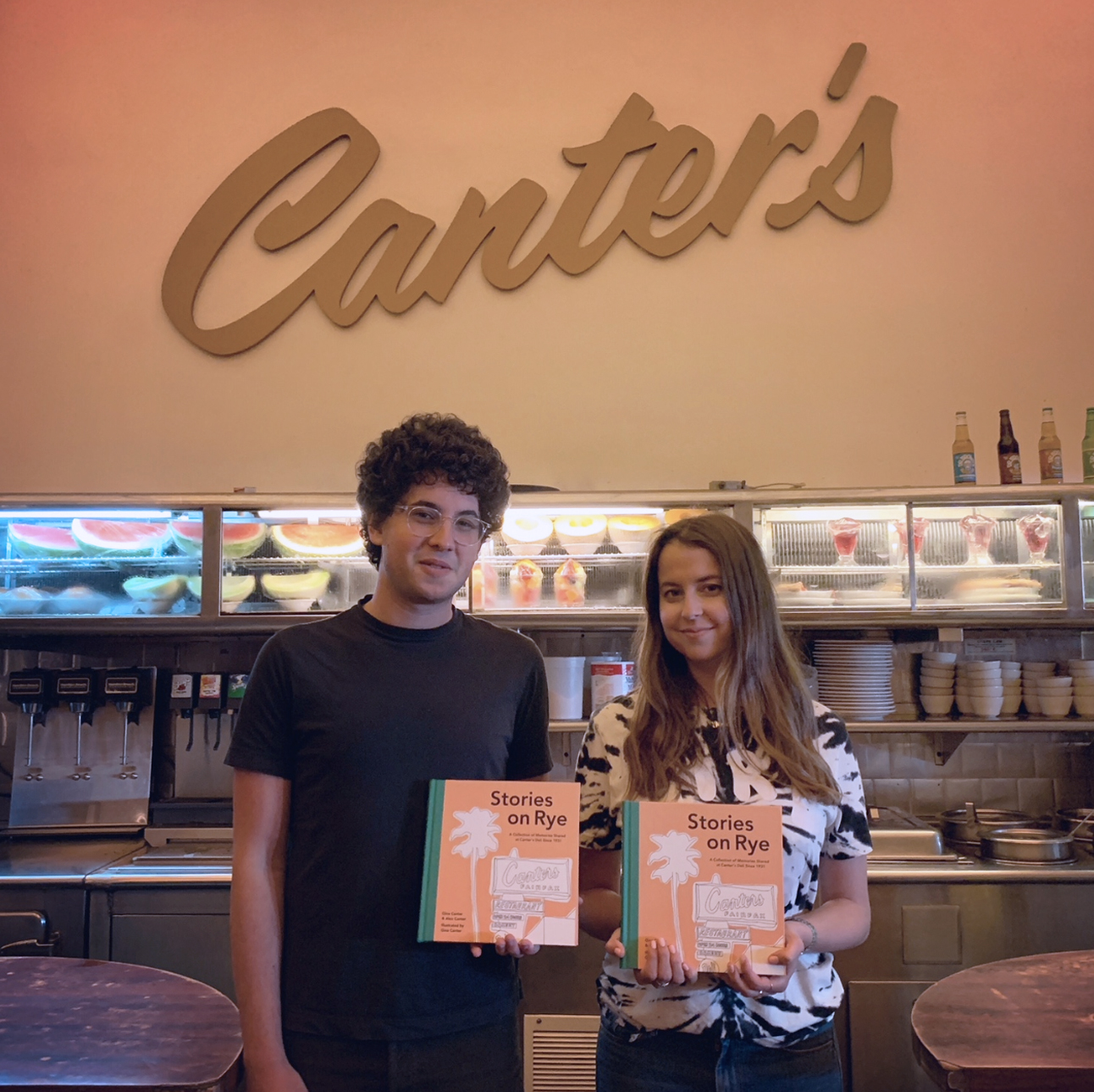 Siblings Gina and Alex Canter, 4th generation operators of the world-famous Canter's Deli in Los Angeles announce the publication of Stories on Rye: A Collection of Memories Shared at Canter's Deli Since 1931. Stories on Rye collects more than 100 stories from famed LA deli Canter's patrons and employees, capturing their experiences and memories in a book.
Alex says, "Growing up with the last name Canter, many people felt compelled to share their Canter's memories with me. I eventually realized that the Canter's story was so much bigger than just our family's history… We reviewed more than 5,000 hand-written story submissions before narrowing it down to our favorites."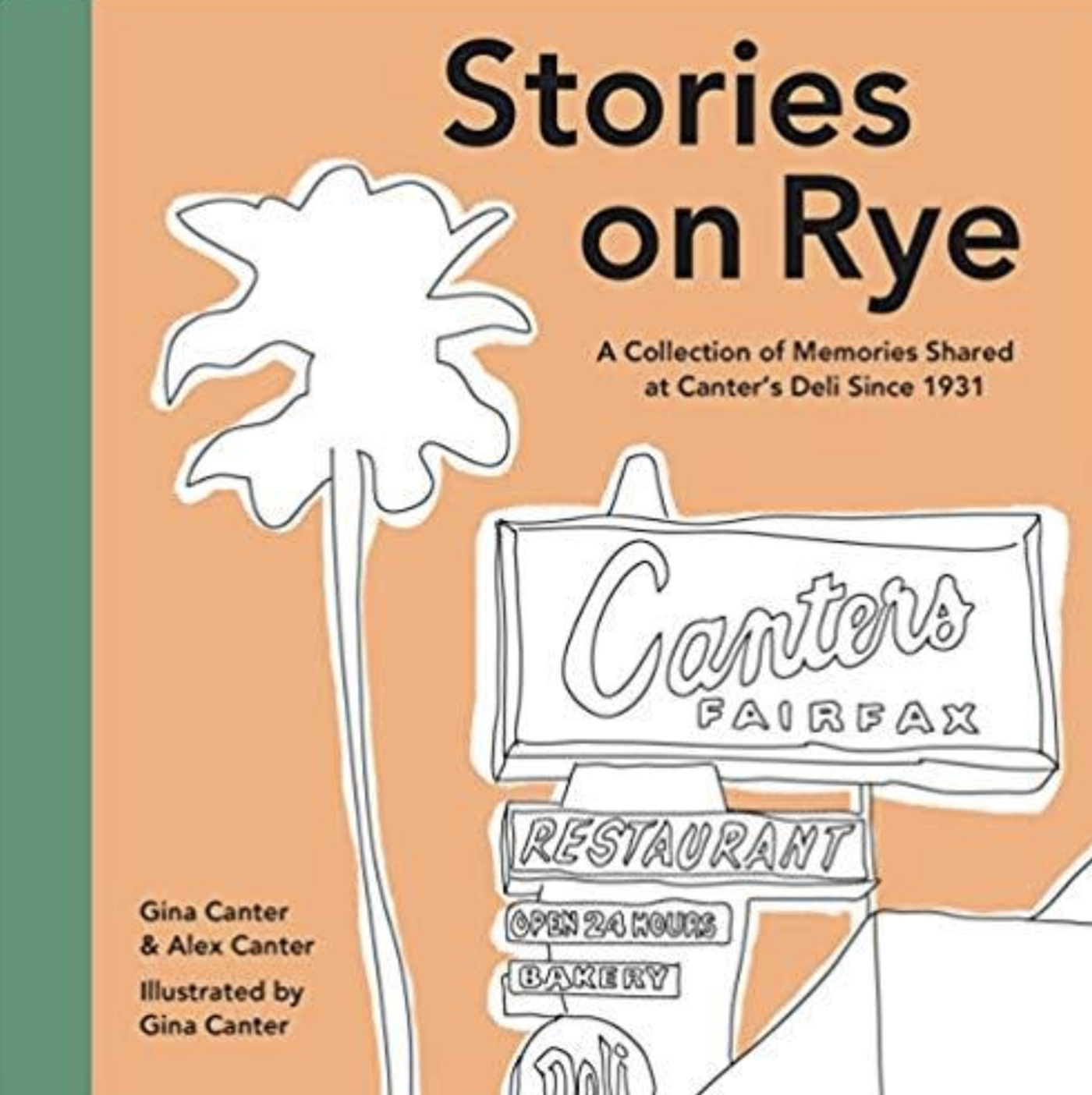 Each story is paired with an original illustration by Gina Canter, who was inspired by the many ways strangers connected to her family's business: "A cab driver in Boulder, Colorado once took 10 minutes of our 20-minute ride describing the way a Canter's Pastrami Reuben made him feel and I wondered who else felt this way… It was a funny feeling for me too, to have a stranger's memory feel like home."
A Los Angeles institution since it first opened in 1931, Canter's Deli is internationally recognized as one of the few remaining authentic Jewish delis as well as being a favorite of countless celebrities, musicians, and even presidents. It's a landmark brought to life through the intimate moments and reminisces in Stories on Rye, and in his foreword to the book, Mayor Eric Garcetti writes, "I always felt at home at Canter's. This book is so much more than a loose collection of stories. It is a reminder that here in the City of Angels, we don't just mark history—we make history."
Stories on Rye is available in stores everywhere on September 24th, 2019.
Alex and Gina Canter are both available for interview upon request.
Gina Canter is an LA based artist who studied art and design at the University of Michigan. Gina has worked at local contemporary art galleries including Mouche Gallery in Beverly Hills. Her work has been featured at the Soho House Miami at Art Basel 2018 and elsewhere nationwide. She most recently was commissioned for a 2019 NBA All-Star Game event in Charlotte.
Alex Canter discovered his passion for restaurants at a very early age, spending most of time implementing new technologies in the family deli. He served as COO of an innovative platform for food truck booking and in 2017, he co-founded Ordermark to help restaurants maximize the benefits of online ordering by sending orders from multiple online ordering providers to a single device in the kitchen. Under his leadership, Ordermark helps thousands of restaurant brands. Alex was recognized for his achievement in building enterprise technology in the 2019 Forbes 30 under 30 list and is a renowned thought leader in the industry.
Stories on Rye: A Collection of Memories Shared at Canter's Deli Since 1931
9/24/2019 | ISBN: 9781733843102| Hardcover | $30.00
About Pomelo & Co
Pomelo & Co is a new imprint from Unnamed Press, with a focus on So-Cal arts and culture.
Distributed by Publishers Group West.
About Ordermark
Ordermark (ordermark.com) is the leading and one of the fastest-growing restaurant technology service providers in the mobile technology space. Ordermark helps restaurants increase efficiency and grow profits by aggregating mobile orders across all of the major online ordering service providers into a single dashboard and printer.
If you have a speaking inquiry or are a member of the media and would like to chat, please contact us at

[email protected]

.
Learn how to grow your restaurant and thrive with online ordering.
Join thousands of peers already getting valuable tips and insights sent to their inbox.